Please describe your work and tell us about its appeals and challenges.
It's my mission to maintain the quality of our maintenance standards.
It's the mission for people who handle the maintenance of aircraft to minimize flaws and always maintain the safety of our aircraft. For that purpose, I have various duties, among which my key roles are to compile maintenance manuals that our aircraft mechanics use and to coordinate with the manufacturers of parts such as making proposals for improvements in design and ordering aircraft. While there often tends to be a misunderstanding at the mention of LCCs where people wonder if they're safe, the standards that Peach expects in its parts and maintenance are extremely high and it allows no room whatsoever for compromise when it comes to the quality of maintenance. It's also necessary for partner companies abroad who work with us to understand this. With the different languages that are used and the various values that people have, it's tougher than you might imagine to secure the "Japan quality" that we have at Peach, but we make every effort to gather information that will be convincing for the people responsible at our partner companies in order to initiate logical communication. I think it's both a challenge and the interesting thing about this job to negotiate with other departments as well as outside the company rather than working quietly by yourself.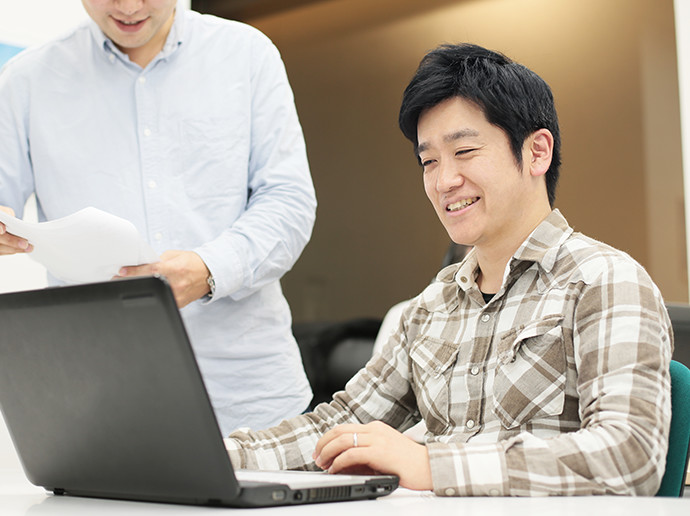 At Peach, there's no such thing as a challenge without a fighting spirit.
Unlike my days with my previous manufacturer, Peach has its office within the airport facilities, so I can say that we're located close to our customers. Being able to see the customers to whom we offer our services leads to a sense of responsibility and a sense of fulfillment. The aircraft mechanics onsite work within close proximity to our customers, too, so these feelings are mutual among all of our staff. In my previous job, I spent my days facing only equipment and monitors, but that has changed greatly since I joined Peach.
There are also a broad range of challenges that are available to us for polishing our skills, starting with overseas training. There's no set training system in place—we can find what we want and make a proposal to our superiors. Of course, it doesn't mean that anything goes, and we're asked for a good reason and a clear vision. Why we want to acquire particular technology or expertise, how we plan to use it, and how it would help us in our work at Peach. At Peach, there's no such thing as a challenge without a fighting spirit. It's another one of Peach's appeals that it offers an environment where you can obtain the latest expertise and take action to boost your own standards.